Printed from TeacherJohn.com • http://teacherjohn.com/contact/
Contact
John
Govsky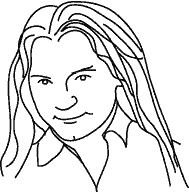 Email
john@teacherjohn.com
(Cabrillo students should start the subject line with the course number, as in "DM60".)
Phone
831-466-3269
Cabrillo College office hours (spring 2017) *
Mondays 1:00 PM–2:15 PM
Mondays 4:45 PM–6:00 PM
or by arrangement
All my office hours are in the CTC (the CTC is room 1400, the computer lab; see the campus map). Please let me know if you wish to meet with me in a more private setting.
Postal mail
John Govsky, PO Box 7624, Santa Cruz, CA 95061
For help with homework exercises, projects, or topics covered in class, do not ask questions through email; post your questions to the Discussion Forum, or see me during office hours. For questions regarding administrative or personal issues, contact me directly; do not post these questions to the forum.
* If necessary, I will gladly make time outside of my normal office hours to accommodate your schedule.
Online
students:
I will be actively monitoring the online discussion forum, and checking email, during my office hours. Also, feel free to set up an in-person appointmemt, or phone appointment, at any time.